Pit Stop Dog Walking & Pet Care was started with the intention of providing top caliber pet care for all animals. We are advocates of training and structure, and believe that animals thrive with a few rules, some boundaries and lots of love and attention.Our walkers and sitters friendly, professional, trustworthy, and reliable. We treat all animals like the cherished family members they are. Pit Stop team members make the extra effort to keep your mind at ease with text and photo updates while you are away.

Take a peek at our site and contact us to schedule a meeting with our pet care family!
Meet our Crew
Marnae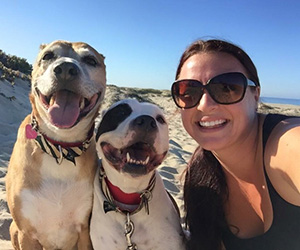 I grew up in sunny Ventura, California with two cats and a dog. When I was in college, I began pet sitting for my boss who had two pit bulls. I fell head over heels in love with the breed, and after graduating from California Lutheran University with a degree in Biology, I adopted two pit bulls, Athena & Chloe.
After bonding so deeply with my own dogs, it wasn't long before I had the desire to give back and help more animals. I started volunteering and fostering for various animal rescues, and honed in on rescue groups that rescued, trained and adopted out bully breeds. If nothing else, I am a believer in second chances and an advocate for the underdogs.
I started Pit Stop Dog Walking & Pet Care with the intention of providing the caliber of pet care I would desire for my own dogs. I am an advocate for training and structure, and I believe all animals thrive with rules and boundaries. Both my dogs are certificate holders for the AKC's Canine Good Citizen program, and Chloe is also a certified therapy dog who loves to work with children.
In my spare time, I enjoy going to concerts, cheering on the Cowboys, coaching soccer (Go Ventura!), and living the beach lifestyle.
Alice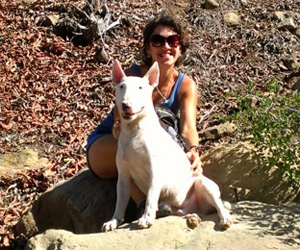 Dogs have been huge part of my life before I was even born. My mom was a vet and we always had three dogs and numerous other animals in the house, and we still do! I was that kid who always preferred hanging out with the dogs. I now volunteer at C.A.R.L (Canine Adoption and Rescue League) and Dobies and Little Paws Rescue. I am the proud guardian of an English Bull Terrier named Nietzsche and I never run out of topics to talk about when it comes to excellence in canines.
Apart from all that, I am an avid book reader and writer, calligrapher, foodie and traveler. I believe that the answer to peace is accomplishing excellence within yourself.
I am honored to be a part of Pit Stop Pet Care team to take care of your furry family members. "Bark less, play more and don't forget the treats!" Cheers!
Jamie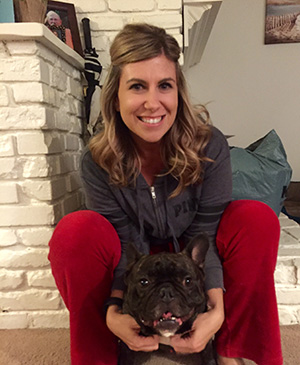 I was born and raised in Quartz Hill, California as an only child. But just because I am an only child doesn't mean I was ever alone! At any given time in my upbringing, we would have 3 dogs and a handful of cats. My mother worked at our local animal shelter and I spent most of my childhood bringing home stray animals and volunteering in the shelter. My mom was just as much of a sucker as I was…we both couldn't say no. One of my best friends during childhood was a terrier that the shelter named Jamie. I thought it was so cool that we had the same name!
Later in life I went to school and became a Certified Medical Assistant/Biller. I worked in the medical industry for 7 years and also spent 9 years working in education before I decided to pursue other interests. I love working for Pit Stop because I get to spend time with many different animals and deliver such peace of mind to their owners.
I have two daughters, three dogs and three cats. I'm a Steelers super fan and during football season, you will find me glued to the Steelers game while sporting my Steelers gear.
In my spare time I am a soccer mom and a dance mom; some of my daughter's friends call me "uber mom" because I am usually the mom carpooling all of the kids around while they sing along with the radio in the back of my car. I wouldn't have it any other way!
Kalli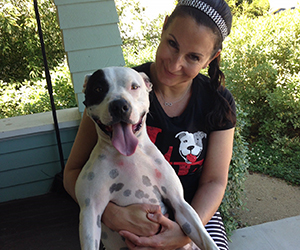 I guess you can say I take after my father; he would bring home stray animals at least every other week! My mother was not happy to say the least, but I was. Thankfully once I went off to college I was able to start living with dogs. You can say my first love was my Rottweiler I got when I was 23 years old. To this day I say he was the best man I have ever met! After him I was lucky enough to be a mom to an English Lab and now to both of my rescued pit bulls, Shugz and Bella. Those dogs have forever changed my life and I am so lucky to have found them.
I live with my husband Chris and our two pibbles in Ventura. I love the outdoors and try to get out to the beach at least 4 days a week. I was a school teacher for 10 years and a school administrator for 4 until I got lucky enough to choose what I really wanted to do. Now I get to work with people in the health and wellness field and hang out with animals with Pit Stop Pet Care. I am so blessed!
Where do you walk my dog?
Most private walks are done in the vicinity of your neighborhood. Sometimes we may also travel to a nearby park to play and give your dog extra room to stretch their legs and sniff the fresh air.
Will you walk my dog with other dogs?
In general, our walks are private walks. If we walk another pet in the area who we think would be good friends with yours, we might ask if you would like your dog meeting another dog. We NEVER do introductions without full consent from each owner.
Does my dog have to socialize with other dogs on a pack hike?
No, we never force socialization. But, we find that most dogs end up pairing up with a buddy they love spending time with! (and sometimes these pairs make the cutest odd couples!)
What if my pet needs something other than walking?
No problem! Just let us know what you'd like us to do during our visit. We're happy to feed your pet a meal, fill water bowls, give medication, clean the litter box, or whatever else may be needed!
What is your cancellation policy?
We get it, plans change! If you need cancel a scheduled service, we ask for 72 hours advanced notice for a full refund. Should you need to cancel with less notice, you will be charged 50% for 48-71 hours notice, and 100% for less than 48 hours notice of the scheduled service. We always try to be as flexible as possible, so please feel free to contact us with any questions!
Do you provide services on holidays?
Yes! We believe pets need care 365 days per year. There will be an additional $15 fee for each service rendered on a holiday and holiday weekends. Holidays are a very busy travel time, and spots do fill up quickly, so please email us to book your service ASAP!